Welcome to Bengt and Thommy's unique International M.I. Hummel Rarities!
My name is Thommy Leksell, and together with my friend Bengt Carlsson I collect M.I. Hummel Rarities. Please feel free to browse our homepage, and look in the galleries on the left, here we have published some sample pictures of Maria Innocentia Hummel. The pictures posted here are only a small part of our extensive Hummel collection, but they will give you an idea of the quality that our collection has.

We both hope that you will find this homepage useful, whether you just like to look at some of our figurines, or you might have a figurine or two that you think we might be interested in buying (or if you have a figurine for sale). Please feel free to contact us if you have any questions, or if you simply would like to correspond with us. The email address you need to use is this one: lxl@lxl.se, or click on "E-mail" on your left...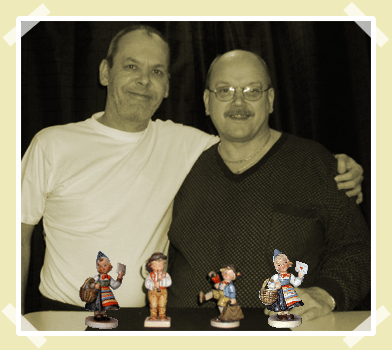 Information:
I am 71 years old, married to Barbro, with two grown up children. I live in Norrköping, Sweden. Bengt and I have known each other since we were kids, growing up together. We started collecting figurines together a few years ago, and since then our collection of rare, and unique M.I. Hummel figurines has grown rapidly. Above is a picture of me and Bengt, in front of us are three of our most precious figurines, the International MEL 24 Swedish, and International HUM 831 Slovak (both of them are sold to a collector in the USA). Further up the page you can see a picture of the HUM33 Faience (sold to a collector in Germany). Now we have also added a MEL25 to our collection (the figurine to the left), unfortunately it has been repaired by a previous owner.





News:
This homepage is still under development, and always will be...
2009-03-02: Today we got a new counter.
2021-01-08: Today was my birthday, along with Elvis and Bowie.
2006-07-17: Today we present our new MEL25 (the only one with both the Mel25 and insiced M I Hummel!?!) The picture of the MEL25 has been pasted into the picture using a picture I took earlier.
2006-08-01: Today we sold the MEL25 to a private collector in the US.

If you would like to contact us, please use this email address: lxl@lxl.se





Copyright ©: Thommy Leksell, Sweden